The Silhouette InstaLift is a minimally invasive solution that delivers a great option to patients for whom face lift surgery is not their preferred approach to restore volume to the mid-face area. The fully resorbable sutures lift and reposition subdermal tissue while the resorbable bi-directional cones hold the sutures and facial skin in an elevated position. Over time the implanted PLGA suture and cones also stimulate collagen production to help increase and restore volume to the mid-face for natural-looking, long lasting results. Dr. Henry Mentz and his specially-trained nurse practitioner, Renee, offer Silhouette InstaLift for patients looking to improve the collagen and volume in their cheeks.
Reviews
"Dr. Mentz is nothing short of a magician. I went to him for an abdominoplasty in November of 2015 and his work has been life changing. His "bedside manner" is equal to his skill. I did not, for one moment, feel spoken down to or intimidated by his brilliance. He was kind, professional and has a great sense of humor. This man is an artist."
- J.R. /
Facebook /
Aug 16, 2017
"Love Dr. Mentz and his staff! He does amazing work! He's the very best!"
- J.S. /
Facebook /
Sep 26, 2018
"Full Facelift - I have to give Dr Mentz 5 stars and would give him and his staff more if there were more stars. I interview 5 other plastic surgeons before deciding on Dr M. I'm 6 weeks out from a full facelift. I had no pain at all after surgery...he didn't tell me about that!! My experience from my first visit, AnaLisa, to the day of surgery, the surgical staff, Dr. Vo, the visiting nurses, Wendy, fol..."
- B. /
RealSelf /
May 10, 2018
"Wonderful experience! - Dr. Mentz is awesome as well as the office staff. Upon my first encounter with him he was very kind, patient and very knowledgeable. I had a BBL and I couldn't be more happy with the results! I'm 3 weeks post-op no complications and I've received numerous compliments on my new body. My entire experience from beginning to now has been wonderful. I am so grateful I chose Dr. Mentz! He excee..."
- A. /
RealSelf /
May 01, 2018
"Great Doctor,  Explains everything in detail."
- J.L. /
Yelp /
Mar 06, 2018
Previous
Next
During the in-office procedure, a specially-trained physician will begin by marking the cheek areas mapping out the suture placement on the patient. Local anesthesia is given in small amounts where the punctures will be made. The physician will then gently insert a needle to depth of 5mm and guide it through the subcutaneous tissue to the nasolabial fold and a second needle is used to pass the suture segment up to the temple. The central portion of the suture has small cones with me at that allow the suture to be ratcheted or clicked up in order to lift the cheek and flatten the nasolabial fold. The suture is tightened and the cheek is lifted to smooth and elevate the cheek fat pad up onto the cheekbone. The suture and small cones actually provide some volume and plumpness over the cheek. Optimum patients for the Silhouette InstaLift are patients with visible nasolabial folds and thicker skin. Other advantages are patients with relatively long faces, since the technique will lift the cheek fat pad and plump it as well. Thin-skinned patients and patients with wide faces may not be good candidates. Patients should be off of aspirin, Advil and Aleve for at least seven days prior to the procedure.
The typical price in our practice is $4,500. The treatment fee varies according to each patient's needs and the number of sutures required.*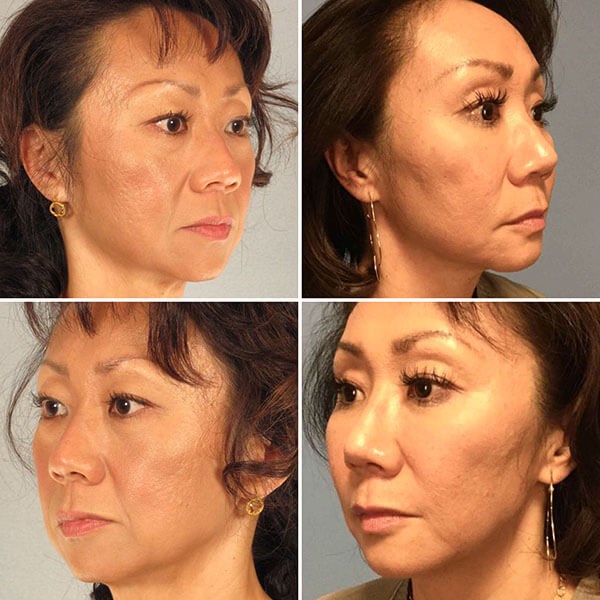 Silhouette Instalift Results: Notice the high points of her cheeks. Over time the implanted PLGA suture and cones stimulated her collagen production increasing and restoring volume to the mid-face giving her very natural-looking results.
Plan Your Procedure
Average Cost

From

$4,500
Contact Us
Silhouette InstaLift FAQs
What are the sutures made of?
Silhouette InstaLift is the ideal minimally-invasive solution that has been FDA-approved for men and women who are interested in refreshing their appearance without major surgery, injections or lasers. It offers a new and unique technology to lift sagging facial skin.
Sagging facial skin is one of the major contributors to an aged and tired appearance. Silhouette InstaLift is a minimally-invasive procedure that enhances the contours of your face by lifting the deeper layers of your skin for a more youthful look.
Difference from Thread Lifts?
Silhouette InstaLift is an entirely new technology and procedure. Rather than temporarily moving the surface of the skin with hooks and barbs, Silhouette InstaLift repositions the underlying layers of the skin with our patented bi-directional cones. Another very important advance is that Silhouette InstaLift is fully resorbable and thus not permanent. As the Silhouette InstaLift sutures and cones are resorbed, they stimulate collagen renewal, which helps increase and restore volume to the mid-face for natural-looking, long lasting results.