The Silhouette InstaLift is a minimally invasive solution that delivers a great option to patients for whom face lift surgery is not their preferred approach to restore volume to the mid-face area. The fully resorbable sutures lift and reposition subdermal tissue while the resorbable bi-directional cones hold the sutures and facial skin in an elevated position. Over time the implanted PLGA suture and cones also stimulate collagen production to help increase and restore volume to the mid-face for natural-looking, long lasting results. Dr. Henry Mentz and his specially-trained nurse practitioner, Renee, offer Silhouette InstaLift for patients looking to improve the collagen and volume in their cheeks.
Reviews
"Dr. Mentz is nothing short of a magician. I went to him for an abdominoplasty in November of 2015 and his work has been life changing. His "bedside manner" is equal to his skill. I did not, for one moment, feel spoken down to or intimidated by his brilliance. He was kind, professional and has a great sense of humor. This man is an artist."
- J.R. /
Facebook /
Aug 16, 2017
"Dr Mentz is an incredibly talented and gracious doctor! With Wonderful bedside manner! He was able to work magic with a rhinoplasty revision from the previous botched nose job I had received from a doctor before him. My nose looks better than it ever has!! He also did a breast augmentation. Upsizing my 10 yr old implants from saline  to silicone and a larger implant. And I finally have the breasts I always wanted!! And a testament to his generosity and commitment to perfection, originally I had a smaller implant chosen and after the original surgery was not happy with the size after all. Dr Mentz was kind enough to allow me to go back under the knife only a couple of days after the initial surgery and obtain the larger implants I desired...FREE OF CHARGE!! Only charging me for the price of the implants. His compassion and understanding made me feel like he really cares and his commitment to perfection rivals my own I am about to have a Brazilian butt lift done with him in a month or two and I am so excited!! Because I know what a talented doctor he is!! I would not entrust my body or face to another doctor EVER AGAIN! If your looking for your "happily ever after", look no further! Thank you again Dr Mentz!! For making me feel (and look) whole again!!"
- C.B. /
Yelp /
Oct 03, 2019
"I absolutely love Dr. Mentz. He did my septum many years ago and the bone in my nose fractured like an egg. It was extremely thin. This has happened only once before in his career. He reconstructed my nose and it came out wonderfully. I also had a breast reduction. I balanced it to my body type, and ten years later I still have a good shape. I absolutely trust his aesthetics. He has a wonderful eye, and desire to do beautiful work on every patient. My experiences with him have always been exceptional, and I have extreme confidence in his work. His education speaks volumes about his knowledge."
- Anonymous /
RateMDs /
Feb 25, 2019
"I had a wonderful experience today undergoing my #rhinoplasty and #septoplasty  I had the best and most caring doctor along with the help of his wonderful team! I cannot thank Dr. Mentz enough for all he did.  I will be forever grateful!"
- A.C. /
Yelp /
Aug 04, 2020
"He is Excellent & professional surgeon."
- S.H. /
Healthgrades /
May 03, 2020
Previous
Next
During the in-office procedure, a specially-trained physician will begin by marking the cheek areas mapping out the suture placement on the patient. Local anesthesia is given in small amounts where the punctures will be made. The physician will then gently insert a needle to depth of 5mm and guide it through the subcutaneous tissue to the nasolabial fold and a second needle is used to pass the suture segment up to the temple. The central portion of the suture has small cones with me at that allow the suture to be ratcheted or clicked up in order to lift the cheek and flatten the nasolabial fold. The suture is tightened and the cheek is lifted to smooth and elevate the cheek fat pad up onto the cheekbone. The suture and small cones actually provide some volume and plumpness over the cheek. Optimum patients for the Silhouette InstaLift are patients with visible nasolabial folds and thicker skin. Other advantages are patients with relatively long faces, since the technique will lift the cheek fat pad and plump it as well. Thin-skinned patients and patients with wide faces may not be good candidates. Patients should be off of aspirin, Advil and Aleve for at least seven days prior to the procedure.
The typical price in our practice is $4,500. The treatment fee varies according to each patient's needs and the number of sutures required.*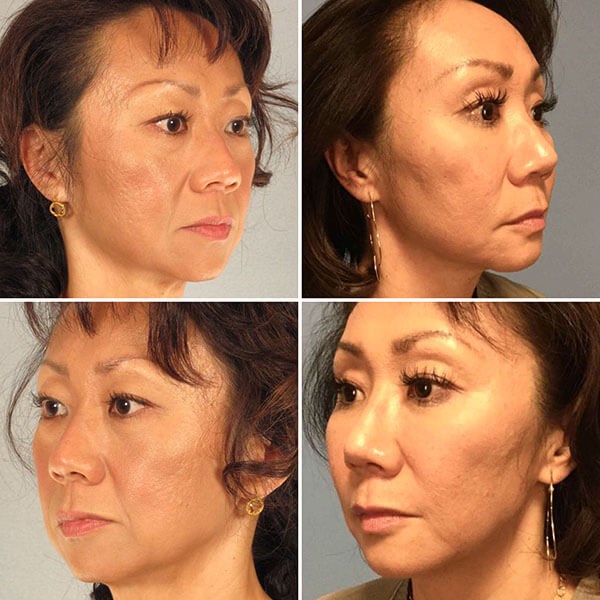 Silhouette Instalift Results: Notice the high points of her cheeks. Over time the implanted PLGA suture and cones stimulated her collagen production increasing and restoring volume to the mid-face giving her very natural-looking results.
Plan Your Procedure
Average Cost

From

$4,500
Contact Us
Silhouette InstaLift FAQs
What are the sutures made of?
Silhouette InstaLift is the ideal minimally-invasive solution that has been FDA-approved for men and women who are interested in refreshing their appearance without major surgery, injections or lasers. It offers a new and unique technology to lift sagging facial skin.
Sagging facial skin is one of the major contributors to an aged and tired appearance. Silhouette InstaLift is a minimally-invasive procedure that enhances the contours of your face by lifting the deeper layers of your skin for a more youthful look.
Difference from Thread Lifts?
Silhouette InstaLift is an entirely new technology and procedure. Rather than temporarily moving the surface of the skin with hooks and barbs, Silhouette InstaLift repositions the underlying layers of the skin with our patented bi-directional cones. Another very important advance is that Silhouette InstaLift is fully resorbable and thus not persistent. As the Silhouette InstaLift sutures and cones are resorbed, they stimulate collagen renewal, which helps increase and restore volume to the mid-face for natural-looking, long lasting results.