Many people have both loose skin and areas of stubborn fat on their body that they'd like to fix without an invasive body lift and surgical liposuction. BodyTite is a revolutionary, minimally invasive liposuction procedure that also tightens your skin with very little recovery time. The RFAL (radiofrequency-assisted liposuction) in BodyTite allows triple board-certified plastic surgeon Dr. Henry Mentz to efficiently help his patients in Houston, TX enhance their body shape. Approved by the FDA (Food and Drug Administration), BodyTite can safely eliminate fat and tighten skin without any scars for fast results. Schedule a consultation at Henry A. Mentz to learn more about BodyTite and other treatment options for fat removal and sagging skin.
Reviews
"Dr. Mentz is nothing short of a magician. I went to him for an abdominoplasty in November of 2015 and his work has been life changing. His "bedside manner" is equal to his skill. I did not, for one moment, feel spoken down to or intimidated by his brilliance. He was kind, professional and has a great sense of humor. This man is an artist."
- J.R. /
Facebook /
Aug 16, 2017
"Dr Mentz is an incredibly talented and gracious doctor! With Wonderful bedside manner! He was able to work magic with a rhinoplasty revision from the previous botched nose job I had received from a doctor before him. My nose looks better than it ever has!! He also did a breast augmentation. Upsizing my 10 yr old implants from saline  to silicone and a larger implant. And I finally have the breasts I always wanted!! And a testament to his generosity and commitment to perfection, originally I had a smaller implant chosen and after the original surgery was not happy with the size after all. Dr Mentz was kind enough to allow me to go back under the knife only a couple of days after the initial surgery and obtain the larger implants I desired...FREE OF CHARGE!! Only charging me for the price of the implants. His compassion and understanding made me feel like he really cares and his commitment to perfection rivals my own I am about to have a Brazilian butt lift done with him in a month or two and I am so excited!! Because I know what a talented doctor he is!! I would not entrust my body or face to another doctor EVER AGAIN! If your looking for your "happily ever after", look no further! Thank you again Dr Mentz!! For making me feel (and look) whole again!!"
- C.B. /
Yelp /
Oct 03, 2019
"I absolutely love Dr. Mentz. He did my septum many years ago and the bone in my nose fractured like an egg. It was extremely thin. This has happened only once before in his career. He reconstructed my nose and it came out wonderfully. I also had a breast reduction. I balanced it to my body type, and ten years later I still have a good shape. I absolutely trust his aesthetics. He has a wonderful eye, and desire to do beautiful work on every patient. My experiences with him have always been exceptional, and I have extreme confidence in his work. His education speaks volumes about his knowledge."
- Anonymous /
RateMDs /
Feb 25, 2019
"I had a wonderful experience today undergoing my #rhinoplasty and #septoplasty  I had the best and most caring doctor along with the help of his wonderful team! I cannot thank Dr. Mentz enough for all he did.  I will be forever grateful!"
- A.C. /
Yelp /
Aug 04, 2020
"He is Excellent & professional surgeon."
- S.H. /
Healthgrades /
May 03, 2020
Previous
Next
The BodyTite procedure is usually performed with local anesthesia, but general anesthesia can be used if you are nervous or having multiple areas treated. The advanced BodyTite applicator is inserted via very small incisions in your skin. The applicator has an external and internal thermometer that will protect you from burns. The applicator will liquefy and loosen the fat with radiofrequency waves so that the fat can be easily suctioned out of your body. The heat used throughout the fat removal will tighten your skin and connective tissue for instant improvements. BodyTite treatments generally take around 30 – 45 minutes per area. Several treatments may be needed or recommended by Dr. Mentz to provide your best outcomes.

You'll need to recover for 5 – 10 days after your BodyTite procedure. A compression garment should be worn over the treated areas to promote healing. Some results can be seen instantly; however, your final results won't be apparent for 3 – 6 months as the swelling and inflammation subside. Even though the fat that's removed cannot return, the remaining fat cells may become larger with weight gain so it is very important to keep a healthy, stable weight after your BodyTite procedure.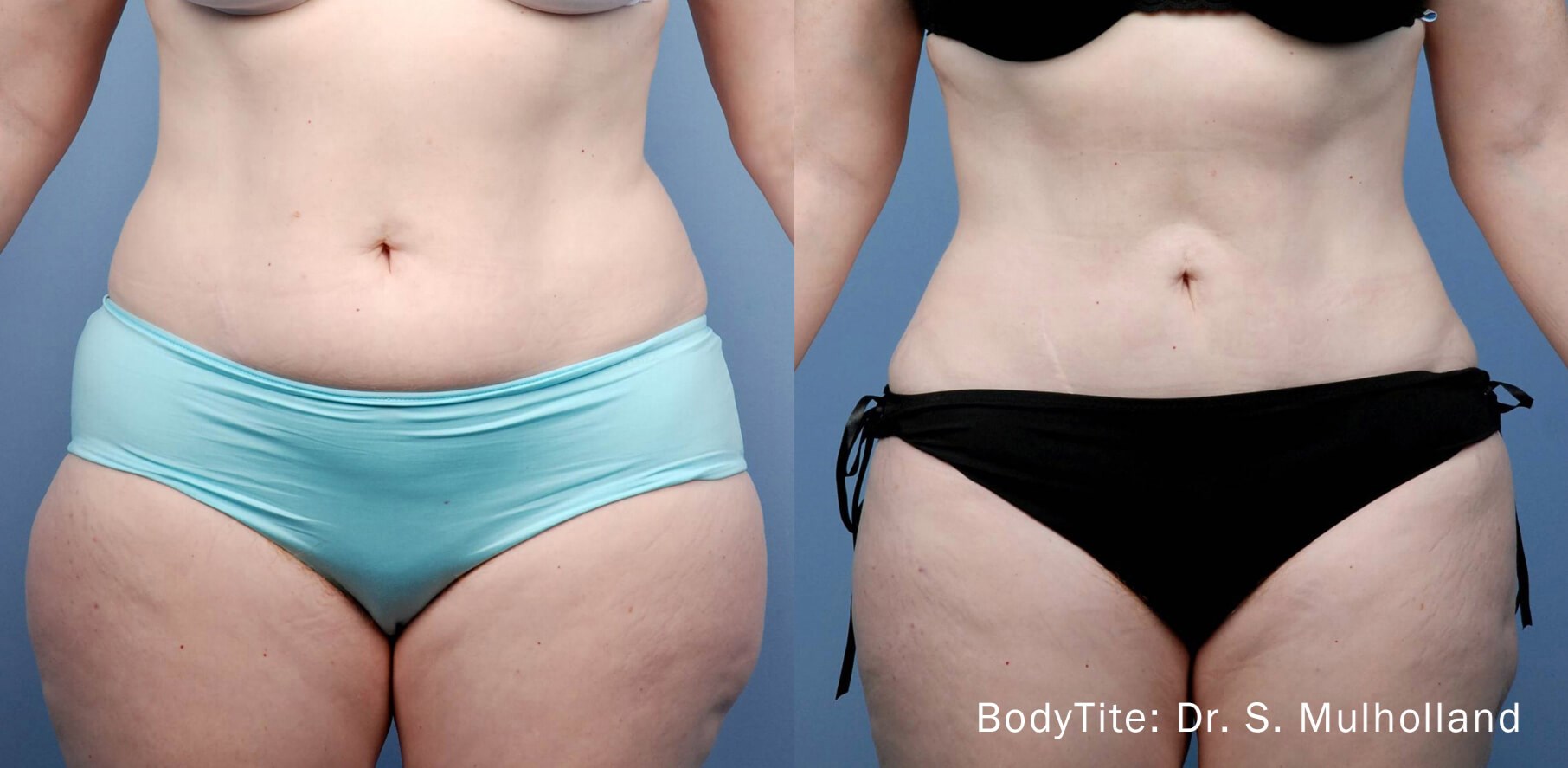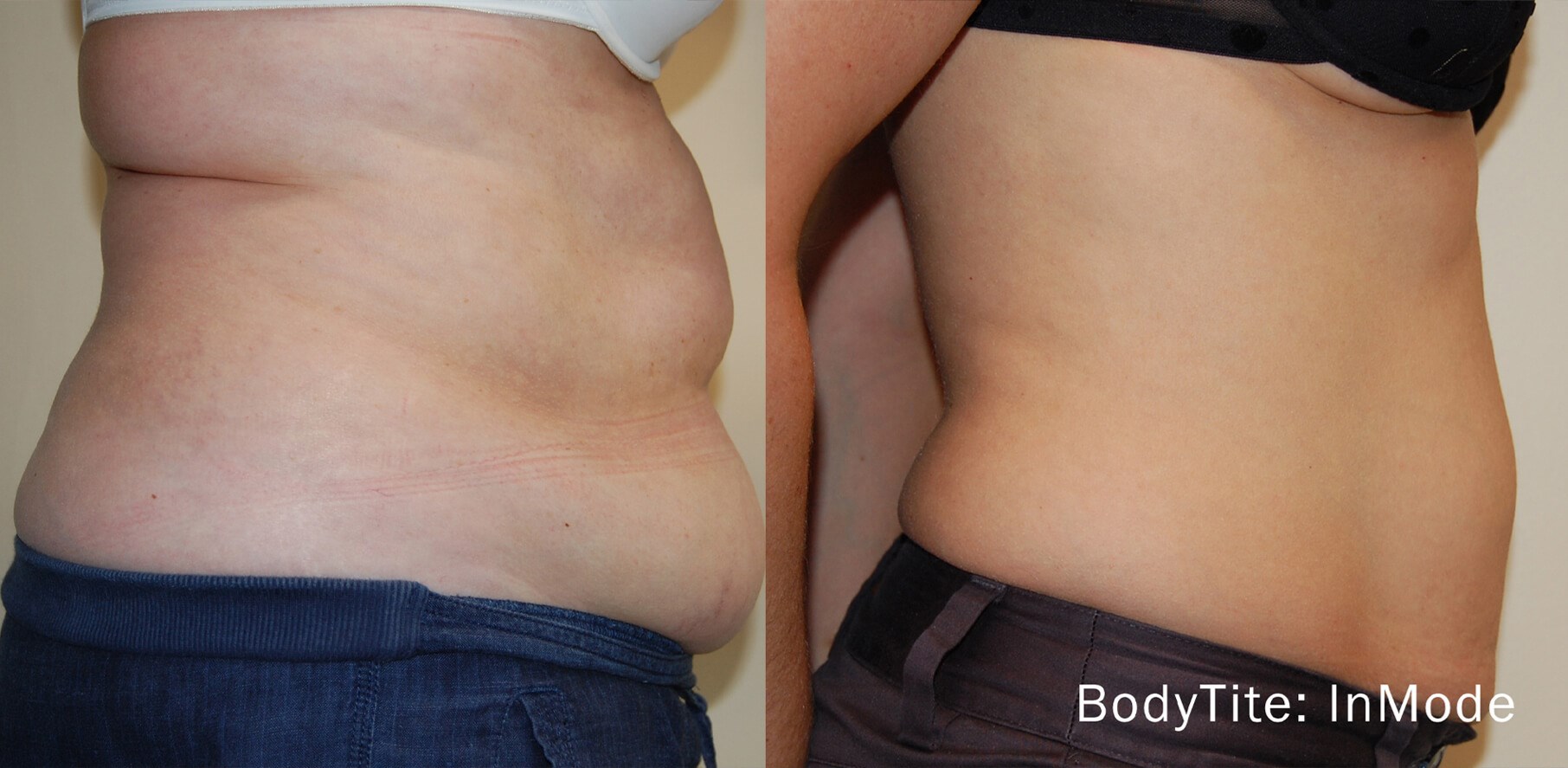 Frequently Asked Questions
Who is an ideal candidate for BodyTite?
BodyTite may help if you want to see better contours and skin tightness in one or multiple areas of your body. You might be a candidate for BodyTite if you want to get rid of stubborn pockets of fat and also improve the look of sagging, wrinkled skin. You may have considered a body lift surgery or traditional liposuction but would rather minimize surgical downtime and scarring. Many areas of the body may be treated with BodyTite; however, a few of the more common regions that patients want help with are the stomach, chest, arms, thighs, and knees.
Surgical options?
BodyTite is a great option for those who desire dramatic results without the downtime associated with surgery. However, lifting surgeries, like tummy tucks, arm lifts, etc., remain the most effective for those with excessive loose skin. During your consultation, Dr. Mentz can help you understand each of your options before creating your treatment plan.
What is radiofrequency?
Radiofrequency (RF) is an advanced type of energy that uses controlled heat and energy to target and destroy fat cells without harming the surrounding tissues. The RF energy used in BodyTite also helps to promote the growth of collagen and elastin for firmer and healthier skin.